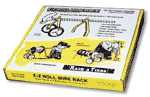 Direct Flexo Printing
The most common method of printing on corrugated board. Polymer plates transfer fast-drying, water based inks onto the board, usually inline with the rest of the conversion process. Flexo produces excellent results in one to four colours.

Litho-Laminating
Preprinted paper sheets are glued to the corrugated baord before conversion into a box. Since the sheets are printed by commercial offset, photographic detail and brilliance are possible. This is an excellent process for retail packaging and point of purchase displays.
Screen Printing
Similar in result to litho-laminating, screen printing is especially suited to smaller quantities and very large sizes.

Coloured Board
Coloured Board Several solid colours are available, to which we can add flexo printing or litho spot labels.
Our creative approach my result in a combination of printing techniques on your package, using the strengths and economies of each.